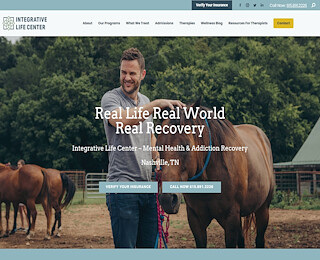 Integrative Life Center has created a unique drug addiction treatment in Nashville based on holistic principles and following a structured approach. Contrary to popular belief, substance addiction is a severe and intricate disorder with often unforeseen ramifications. Our approach to rehab follows a different path than most rehab facilities, with several things that separate us from the crowd. These include:
In-depth and comprehensive evaluations
We know that our patients come from different backgrounds and have unique physical, psychological, emotional, and spiritual make-up. For this reason, we avoid one-sided approaches to rehab and instead rely on customized programs for improved effectiveness. To do that, we rely on complex clinical evaluations, assessing each patient's mental, physical, and clinical state before joining our Nashville addiction treatment.
This will allow our experts to understand what patients need in terms of medical services and what rehab modalities will best fit their profile.
Gender-specific treatments
Men and women have different genetic, psychological, and emotional make-ups and needs, which is why our gender-specific treatment is far superior to universal approaches. Our gender-specific treatment includes multiple recovery modalities, including spiritual guidance, nutritional support, gender-specific group programming, individual therapy sessions, etc.
Our Nashville addiction recovery team will ensure our patients' comfort, security, and privacy throughout the treatment for a unique recovery experience.
Addressing co-dependencies
Most addiction facilities fail to address co-dependencies which often have major impacts on the victim's ability to overcome addiction and maintain sobriety in the long run. Our inpatient drug rehab in Nashville, TN, offers medication, psychotherapy, and continuous support for dealing with conditions like eating disorder, sex addiction, grief and loss, suicidal tendencies, etc. Our professionals will also teach you how to cope with future triggers and avoid the same pitfalls post-rehab.
Ensuring optimal dual diagnosis treatment
Co-occurring mental disorders like PTSD, trauma, anxiety, depression, emotional imbalances, and others are common in patients dealing with prolonged or severe addiction. They are often the result of extreme chemical changes in the brain, leading to negative or harmful thoughts, feelings, and behaviors. Our addiction treatment for substance use disorders relies on dual diagnosis treatment to identify and address co-occurring disorders during rehab.
This will enhance the patient's response to the rehab treatment and provide mental and emotional relief from psychological issues during and after the treatment.
Aftercare and telehealth services
We believe that the aftercare phase is just as important as the inpatient treatment in the long run. Our addiction and mental health treatment in Nashville relies on telehealth services, PHP, and IOP to help patients manage cravings, prevent relapse, and embark on a transformative lifestyle journey post-rehab. This approach allows our professionals to bring their contribution to your long-term recovery journey that may last for years to come.
If you seek reliable, safe, and comfortable drug addiction treatment in Nashville, we urge you to contact Integrative Life Center today. You can speak to a rehab professional at 615-891-2226, get information on insurance coverage and addiction programs, and make an appointment for clinical assessment and treatment.
Integrative Life Center
615-891-2226
1104 16th Ave South
Nashville
TN
37212
US